<!-google_ad_section_start->
Previous night, 31 March, 2007, Trinite was successfully held at Equatorial Hotel, Melaka. This post is to conclude Trinite, continuously from my previous post.
Free hair do TEAM Hair Studio
As a working committee, we do have a free hair do from professional hair studio--TEAM Hair. The designer designed a stylish hairstyle for me, with some yellow color dye, and the best is the glitter than made my hair looks shining.
The first time to Equatorial Hotel
After hair do, we moved to our main event venue--Equatorial Hotel. The lobby is beautiful and elegant, especially the big light on top my head. How good if this is my house?...

The schedule on a plasma TV at Equatorial Hotel lobby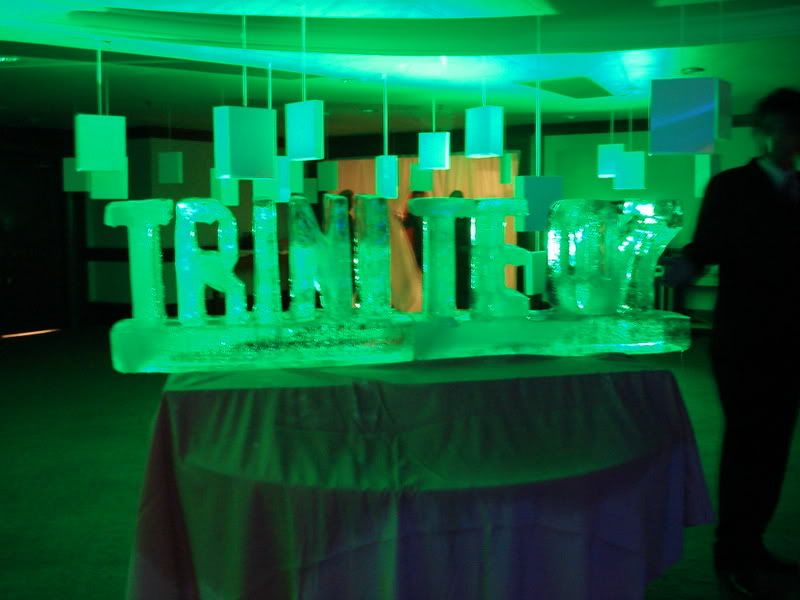 same concept with last year Trinite, with ice wording(grabbed from jijitankyy)
Wow! The performances were awesome!
Joey G and Marion Caunter, as our respective MC, were so professional! Marion Caunter looks so sexy on the stage! Wow! With the cute Joey G, so adorable! They brought the environment to the highest level, by just simply crap(but I love their crap style!) They carried out some small games like dancing, cat walking on stage, and passing rubber band with straw, using mouth. I can see the environment is very excited when Joey G cut the straw become shorter and shorter if the participants managed to pass the rubber band in time.
The highlight of the night, was the performance from our celebrities! "Let us welcome Vince Chong!" The man who win the Academic Fantasia, stood out on the stage there, singing You're Beautiful, and he walked down the stage, sang together with the guests. Another 2 songs selected by him was... I can't remember... sorry, will post up later once I check it out.
The second performer is Dayang Nurfaizah! I believe many Malay guests love her. I saw a lots of people snapping photo with her and request signature from her. When she came out, she is much more open minded and sexy than I thought, especially her beautiful long hair.
OK, this is a tough one. Guess who are they? Here is the Clue-- "U le le U le le Oh!" Yo! It's K-Town Clan! I love their songs, they can rap very fast, although not really understand each sentences, but just simply like to drown into the madness with them.
Some downside of my mood...
I was changed into internal division during the extremely critical hour, to in charge the DJ system(what the fuck?!, I be a DJ?) I spent 1 hour for my director to brief me about my new task and memorize the sequence of the song or music to play, and in charge the projectors display... Very difficult for me to handle it, as I never have any time to practice and rehearsal, plus a low class mouse that always move the cursor even the mouse is idle. I accidentally clicked a song that not suppose to play during that time because of that mouse. Look like a good investment in mouse is important. I warned by director even the fault was the volume control unit by HMG(is it HMG?) company. But I admit that some problems are my fault. I really try my best to do it, sorry. I felt nervous for the whole night, I don't even have the mood to eat.
The worst things is, I don't have camera! That's why I don't have high quality photo here...
What cheers me up....
Vince Chong and K-Town Clan shook my hand when he finished his song. (because I am the DJ, yea!) I also got a free PenDrive mousepad(enough for that, I don't request much)

found my signature?
Technorati Tags: Trinite - k-town clan - vince chong - nurfaizah - equatorial - 2007 - last installment - temptations - DJ
<!-google_ad_section_end->